Maison LAS CLAUZES
An accommodation for connoisseurs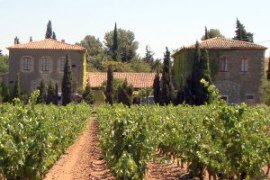 Maison Las Clauzes is a romantic old wine-growing estate from the 19th century and as of many years prepared for the special wishes and needs of motorcyclists.
In the heart of Languedoc, between the sunny foothills of the Pyrenees and the Cevennes, not far from the Mediterranean Sea, motorcyclists will discover a fascinating, varied landscape which invites you to dream and linger.
Here you will find a region with little traffic, covered with medieval towns and castles, wonderful beaches at the Mediterranean Sea, secluded places at small rivers and the stillness of the nature which allows to enjoy the life under Mediterranean sun.
As we keep an open house our guests have the opportunity to spend the time in a friendly atmosphere with other people who feel enthusiastic about motor bikes.
We offer comfortable rooms (all with shower/toilet).
Our guests will find a large Camp site area at our orchard.
We serve a rich breakfast buffet in the morning and a four-course-meal for dinner in the evening (if wished for camper also).
Our guests will find a garage and a drying area at their disposal and, if necessary, we offer breakdown service.
Maison LAS CLAUZES
Holger Schulz
F - 11700 Moux
Fax/Tel: 0033 4 68 43 92 37
E-Mail: Diese E-Mail-Adresse ist vor Spambots geschützt! Zur Anzeige muss JavaScript eingeschaltet sein!